WE DON'T JUST GROW TULIPS -
WE LIKE TO THINK WE GROW EXPERIENCES TOO
Maybe it's small, but we really believe our flowers serve as positive experiences for the people receiving them. In addition to tulips, we provide the variety and quality you need to respond effectively to customer demand and market trends.

We are a Chilean based company specializing in providing clients with gorgeous, fresh flowers throughout the entire year, in a way that emphasizes professionalism and competence.
We are located in a town called Valdivia, nestled between the Pacific Ocean and the Andes, 1170 km/727 miles south of the capital Santiago.

Our facility is situated a few miles from the coast and enjoys the perfect weather conditions for growing happy tulips practically all year long. On top of great weather, operating in the Southern Hemisphere gives us the unique ability to grow tulips during the times of the year when it is difficult to grow bulb flowers north of the equator. We like to think of it as having a geographic advantage in international sales.

Our growing and production complex is comprised of an 800 sq. meter greenhouse, 200 cubic meters of cold storage as well as over 220 sq. meters of processing space.

Each is 100% temperature controlled to ensure we grow and deliver the freshest flowers.
WHAT SETS US APART
We produce gorgeous flowers that exceed international industry standards
by employing a balanced use of the latest technology with sustainable growing practices.
DIRECT FROM PRODUCER
No middleman or unneeded cost, with continuous production from March through December of more than 25 tulip varieties.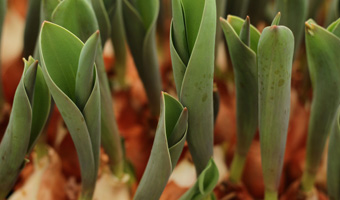 OUTSTANDING SUPPORT
As a Bloomia Partner, Araucania Flowers builds off of collective expertise from an international network of flower producers to offer a leading combination of industry knowledge, cutting-edge growing methods, and the support needed to deliver a superior product consistently and on a time frame our clients expect and deserve.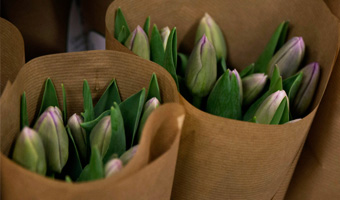 CUSTOMIZED SERVICE
Our range of offerings lets us meet your needs. We make sure you get the color and varieties your customers want - when they want it.
Tulips

Our tulips are simply gorgeous. Combining classic beauty with vibrant colors, our tulips are the perfect way to brighten up anybody's day.

Each one of our flowers is cut and packaged in specially designed containers, providing the necessary protection assuring our clients receive the highest quality flowers as quickly as possible.

Novelty Tulips

All of our flowers stand out from the crowd, but we have a couple of varieties that really know how to steal the show.

Our exclusive line of Peony, Parrot, and Fringed Novelty Tulips are totally the divas of the greenhouse and offer the perfect way to make sure your flowers are as special as the person you're giving them to.

Bouquets

Having a wide range in varieties and color offerings lets us respond quickly to trends in the market and customer demand.

Fast service has never looked so beautiful!

TULIPS
NOVELTY TULIPS
BOUQUETS
We're here to help you blow your customers away.
Let's keep the conversation going.